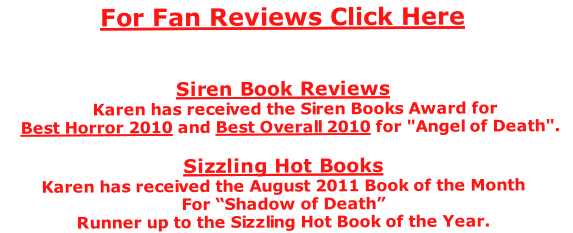 In Praise of The Guest

"Stand Alone or not this little gem will blow your mind as Karen introduces you to The Guest,an angel of death,

who is unlike anything I have ever seen. I am definitely going to be reading the rest of her work!"

(5 Stars) - Lovetiggi's Book Reviews

"This is the first book I have read by this author and loved it. I look forward to reading more in The Chosen Chronicles."

(5 Stars) - The Mystical World of Book Reviews

"Dales explores the alterity of the vampire...plays on Stoker's similarly titled Dracula's Guest, creating a counternarative..."

- Speculating Canada
"I loved how she made the Guest real and gave him an unexpected dept. All the other characters,

even the ones who have a minor part in the whole, are not just cardboard figures but real and alive....

a very pleasurable read I would suggest to everyone"
- The Masquerade Crew

In Praise of Shadow of Death

"A dark, compelling thriller that will keep readers turning the pages well past bedtime."

- Kelley Armstrong, New York Times Best Selling Author.

"Dales doesn't disappoint with 'Shadow of Death'...left me gasping in surprise...

by far the best in the series so far and I will certainly be devouring any future additions."

- Open Book Society

"Shadow of Death...takes you on a nail biting ride across the pond to her home town ... That

never slows down and is as exciting on the first page as it is on the last...

Ms. Dales I can only say one thing about Shadow of Death Book Two of the Chosen Chronicles and that is WOW!

You have left me in suspense and teetering on the edge of a nervous breakdown!" (5 Stars)

- Sizzling Hot Books

"The next installment in Karen Dales' must read The Chosen Chronicles, is as impressive as the first...

This is a fabulous story, well conceived and illustrated in such a way that the reader

will not put it down until they've completed it...You cannot miss with Karen's book. You will love it.

If you haven't read the first one yet, start there and then you too will be waiting impatiently for book number three.

This is the kind of story that leaves you both begging for more..."

(Siren Books Best Stone Review)

- Siren Book Reviews

"Oh wow, that is the only expression that can describe a great book. I can't wait for the next

book in the Chosen Chronicles. I hope that there is a next book. I loved every minute of it...

It leaves the reader anxious for more. I hope that other readers enjoy this beautiful,

sometimes painful, and heartrending journey of the Angel that leads to peace as much as I did."

(5 Stars Top Pick)

- Night Owl Reviews

"A distinctive and addictive voice in the paranormal genre, Karen Dales has once again

delivered a must-read piece of excellence with Shadow of Death...This emotional and stirring

chronicle of our hero's life as he is forced into facing both his past and his future will no doubt

make you a fan of this series and Karen's ability to weave a tale full of rich history and vibrant prose.

If you have not deduced by now, I love this series and cannot wait for Ms. Dales to get in front of her computer

and deliver more tales of The Chosen." (5 Stars)

- Bitten By Books

In Praise of Changeling

In a word: AWESOME! Karen Dales is a gifted writer who paints a vivid landscape and draws you into the

world of The Chosen. Karen delivers an intricately woven plot that is never boring or predictable and always

has you turning the page for more. Grab a copy of CHANGELING: PRELUDE TO THE CHOSEN CHRONICLES

...you will not be disappointed. - Kyle Hannah, Author of Time Assassins

"Okay, so yeah the novel is well written but how many well written books are there out there? This book stands out because it takes fantasy

and story telling to a whole new level. Changeling is fascinating and unique from start to stop.

Not just the same old story being rehashed and rewritten but a story that stands alone

and keeps you thinking about it long after you've finished reading it. As a reader what more could you ask for?"

(5 Stars) - Abouchard

"One of the best...books I have read in awhile." (5 Stars)

- Readers Helping Authors

"Changeling by Karen Dales was an amazing read...(it)kept me on the edge of my seat.

I cant' wait to read the next one to see where his path will lead." (4 stars)

- Sizzling Hot Books

"...full of wonderful characters... I highly recommend this book, it is very unique..."(4 Stars)

- Paranormal Romance Guild

In Praise of Angel of Death

"OOOO!!!!! I need more. Ready for book two no doubt about it...

OMG!!!!! Great plot, great characters. Just loved it. Glad I read it. She makes you fall for Angel. I did....."

- My Book Reviews

"This was a amazing book and should not be missed. It has murder, romance, betrayal, lies, and some graphic violence.

There is surprise after surprise. The characters are wonderful especially, Notus and Angel...The author

has done an amazing job...I can't wait for the next book." (5 Stars) - Paranormal Romance Guild

"Dales' characters were dark, layered and intricate. The story was fast paced and gripping with an ending that will

leave you breathless...I enjoyed the book and would recommend it to those who love

vampires but crave something out of the ordinary." - Open Book Society

"...you never know which direction it will take... I can say that the conclusion of Angel of Death left me

with my mouth hanging open and waiting impatiently for the next chapter in this exciting world.

I highly recommend Angel of Death: Book One of the Chosen if you enjoy a fast paced adventure with all the

twist and turns of a road map!" (5 Stars) - Sizzling Hot Books

"...one of the best stories by a new and upcoming writer that I have read...This tale was

wonderfully written. Every character has a complete and utterly unique personality ...

The Angel of Death will make you smile, and it will cause your heart to break. Very few stories are

the equal to this tale. When you read this story, have a box of tissues handy. Ms. Dales I am

trying to await the next installment patiently, and it is not working out so well." (5 out of 5)

- Siren Book Reviews

"A dark and gripping tale by a true mistress of supernatural fiction.

Karen Dales brings fresh blood to the vampire genre."

—Michelle Rowen

National Best Selling Author

"A fresh and intriguing new look at the vampire mythos"

- Violette Malan

Author of the Novels of Dhulyn and Parno

"For readers who adore textured layers in their literary tapestries, rich in colorful emotions,

Karen Dales is one writer of vampire fiction they'll want to read."

- Nancy Kilpatrick

Author: The Power of the Blood

Editor: Evolve: Vampire Stories of the New Undead

"...is a must-read for any fans of Twilight or other books in the popular Vampire genre."

- Oakville Today.

"...a poignant and epic tale... a brilliant example of good overcoming and prevailing

against evil and prejudice... an emotional ride of literary genius, both heart-warming

and heartbreaking at the same time. (5 out of 5)."

- Bitten By Books

"a grand tale of eternal life and its many challenges... I greatly enjoyed Angel of Death

by Karen Dales and ... recommend it..."

- Two Lips Reviews (5 out of 5)

"I would definitely recommend this book to vampire fans.. a good solid read for both

Changeling and Angel of Death... I'm definitely looking forward to where Dales goes with

this in the future."

- Once Upon A Bookshelf

"This is a mature book, and it's probably that reason that makes it easy to enjoy it as much

as I did. It's nice to get involved in a story that has multiple layers and depth to it....The book

reads fast because Karen never lets it slow down."

- Ruth Ann Nordin, Author.